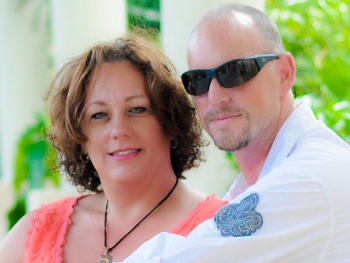 Last month, my husband and I went on vacation.  We went to an all-inclusive place and decided not to include our children in the plans.  My youngest said "Mommy, why can't we go with you?"  I said "Oh, honey, let me try to explain.  You wouldn't like it if Mommy put Daddy in a consistent vegetative state with an iron skillet, would you?  Because then I'd be in prison and he'd do even less around the house than he does now.  Really, this vacation is for your benefit."
She looked a little frightened, but I think someday she'll understand.
So there we were in Punta Cana, spending a day pool-side.  My biggest stress was over whether to order a Pina Colada or a Mudslide.
There was another couple near where we were that day.  While Bill and I were quietly reading our books (which is our way of 'reconnecting', I suppose), this other couple was never quiet.  Well, he was kind of quiet if you think about it.  It was her, Missy, who was never quiet.
"Sam, I need you to put sunscreen on my back."
"Sam, will you get me another drink?"
"Sam, bring the camera!  Take a picture of me!"
All Sam ever said was "Yes, Missy."
Newlyweds are so cute.
By the time they left, I was glad to see them go.
I said "Goodness, but she bossed him around a lot." to which my husband didn't respond..
You don't have to hit me over the head with an iron skillet for me to realize something.  In the weeks that have followed our vacation, there have been times I've asked Bill to do something and he's simply replied "OK, Missy."  At first, I thought this was a refreshing departure because he used to only say "As you wish." which may be what started me thinking of myself as a princess.  He was my Wesley and I was his Buttercup, which I suppose means that the children can be considered Rodents of Unusual Size.
But I digress…
Later, at home, I got to thinking about all this and came to the realization that perhaps the reason Missy annoyed me so much is because I observed something about her that I am less than proud of within myself.  That warranted some introspection.  I've penciled it in for next Tuesday.
It's been a few weeks since our vacation and we continue to play this little game where by he calls me Missy when I am too demanding.
There is a lesson in here for all of us, I think  And so here's the moral of the story:
When he's referring to me as Missy, it could be I'm being too bossy.
And when I'm not referring to him as Sam, it probably means there is some need of mine he could be fulfilling if only he'd hop to it.